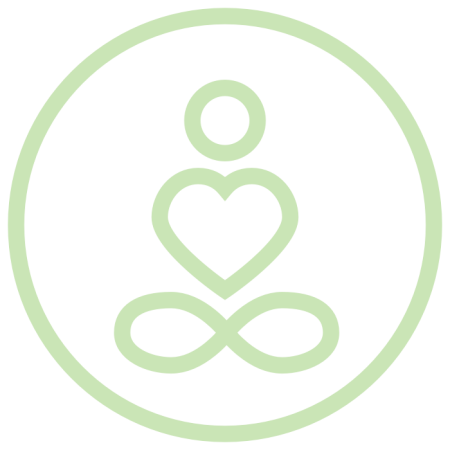 Yoga makes sense… it just does! In the body, the heart-mind, the soul.
My yoga journey has been eclectic and exciting! I entered into the practice through the philosophy door. An old friend gave me a copy of "How to Know God, The Yoga Aphorisms of Patanjali", and I saw that at the University of New Mexico, someone was offering a hatha yoga class, which I immediately signed up for. It was unclear to me at the time how the hatha yoga class and the philosophy of Patanjali were related, but I kept going, as I loved it regardless, and in 1985 began studying with Eddie Modestini in the Iyengar method.
After moving to upstate NY in 1989, I found myself alone with Mr. Iyengar's Light on Yoga, one of the first books on yoga asana. There were no hatha yoga classes offered anywhere near where I lived in rural upstate NY, so I was left to my own devices for about 10 years-- Then I moved to PA for 3 years, where I attended massage school, started studying anatomy seriously, and found an Ashtanga Vinyasa class to attend. I was enthralled with the ashtanga vinyasa method, and became an avid student of the system.
In 2001, I moved back to Amherst, MA and began studying with Patty Townsend, at the time, a well-established ashtanga teacher in the area. As Patty began her studies with Bonnie Bainbridge-Cohen, her emphasis began to shift from ashtanga vinyasa to what would develop into Embodyoga®, which is a method of yoga that encourages us to explore inner space --essentially from the inside-out. It can be applied to any system of yoga, deepening our awareness of presence in whatever style of yoga we choose: yin, ashtanga, vinyasa, restorative etc.!
I became closely involved in the Embodyoga® system that Patty created, assisting her in her teacher trainings, helping organize and create teaching manuals. As a senior Embodyoga® teacher, I soon started leading teacher trainings. The first teacher training I led was with Suzanne Manafort at the Newington Yoga Center in CT, 2009, which we did for 2 years, after which I relocated to northern CA, where I live presently.
I've also had the pleasure of studying with Nicki Doane of Maya Yoga Maui, whom I met through Eddie Modestini in 2001.
One of my passions is bringing yoga to underserved populations. While living in Amherst, I started a yoga program for women at the women's correctional facility in Holyoke, MA and taught many workshops and classes in the tri-state area. I volunteer at the local juvenile detention facility in Placerville, where I have helped implement yoga programs in juvenile detention facilities in El Dorado County, and elsewhere in CA!
I am an IAYT-certified Yoga Therapist, and an ambassador for Mindful Yoga Therapy, which I teach with Suzanne Manafort in her VA-approved program for Veterans with PTS.
Yoga is so powerful, and has transformed my life; and I feel strongly that we as a community need to offer this to people who otherwise would not have access.
I currently lead and teach in several teacher trainings in both MA and CT, as well as in the greater Sacramento, CA and Foothills area. I've lead trainings in Thailand and retreats in India, Mexico, and the US, and I have a deep interest in bringing the gifts of yoga to the world!
I have a particular passion for anatomy and yoga philosophy, and am thrilled to bring the work of Embodyoga® and the other traditions I've studied to the area!
I've recently begun studying and collaborating with Arnab Bishnu Chowdhury, of Pondicherry, India. He is a third-generation Indian classical musician, composer, teacher, and explorer of consciosness and therapy. His program "Know Your Rhythm" (KYR) helps participants discover their own sense of rhythm and musicality in life and work. Here is a link to some information about his program: https://soundcloud.com/arnabchowdhury/know-your-rhythm-interview; and his website: http://kyr.ninad.in/
What I have particularly enjoyed learning from his program is working with phonemes with hand and body movements, in a spirit of joy. Learning the ancient Sanskrit mantras and mudras in consonance with KYR has personally transformed my practice!
Arnab and I are working to create programs that synthesize both these streams of Yoga practice.
I currently run 200-hour and 300-hour teacher trainings and in-depth studies around the world, as well as teaching classes and offering workshops, and am working on creating a new 800-hour Yoga Therapeutics program in the near future!
Come explore your inner space!